Apple-almond strudel with PDO huile d'olive de Nyons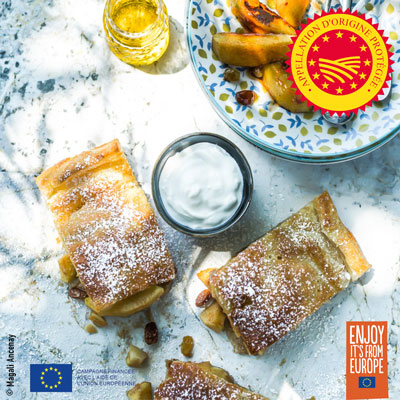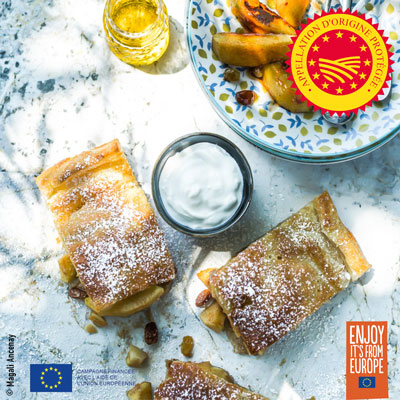 6 persons
30 minutes
40 minutes
720 minutes
Cost
Difficulty
Olive oil or Olives used :
PDO Huile d'olive de Nyons
Tips and tricks
We advise you to use a delicate-tasting PDO olive oil from Nyons, for its sweetness, its smoothness, its aromas of dried fruit, and its buttery taste, along with possible aromas of fresh hazelnuts and/or freshly-cut grass.
You can also use one of these PDO olive oils: Nice and Corse – Oliu di Corsica – récolte à l'ancienne.
Ingredients
Pastry:
250 g flour
40 g PDO huile d'olive de Nyons
100 g water
1 pinch of salt
1 tsp. caster sugar
Filling:
4 apples
60 g cane sugar
1 tsp. cinnamon
15 g rum
50 g sultanas
25 g + 5 tbsp. PDO huile d'olive de Nyons
30 g ground almonds
Icing sugar (optional)
Prepare the pastry (the day before):

Dissolve the sugar and salt in the water. Stir the oil and water into the sifted flour.

Work the dough until uniform, very smooth and elastic (it is not fragile). Form a ball, oil it, cover it with cling film and refrigerate it overnight.

The next day:

Macerate the sultanas in the rum and 1 tbsp. olive oil. Peel the apples, cut them into medium-sized slices and put them in a large container. Add the sugar, the cinnamon, the sultana/rum mixture, as well as one tablespoon olive oil.

Mix well and cover with cling film. Leave to marinate at least ½ hour, then simmer gently for 10 minutes.
Preheat the oven to 200°C.

Take the dough and roll it out very thin on a floured work surface to form a rectangle 30-40 cm long.

The dough should be almost transparent. Roll the dough onto a rolling pin and lay it on greaseproof paper.

Brush it with olive oil (especially at the centre) then sprinkle it with ground almonds. Pour the apple mixture lengthwise in the centre of the rectangle. With the greaseproof paper, close the dough on the two long sides, then fold up the short sides, like a packet.

Gently place the strudel on a baking sheet lined with greaseproof paper, being careful not to tear it.

Poke holes with a fork, then brush with olive oil.
Bake for around 30 minutes, until the pastry is golden brown.

Leave to cool, then sprinkle with icing sugar.