Beef samosa with PDO huile d'olive de Nîmes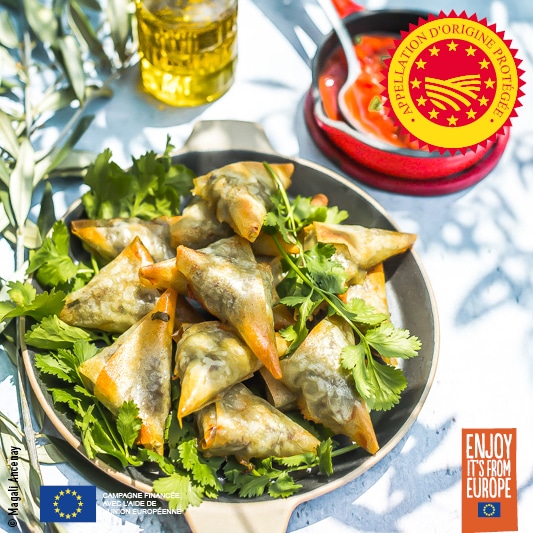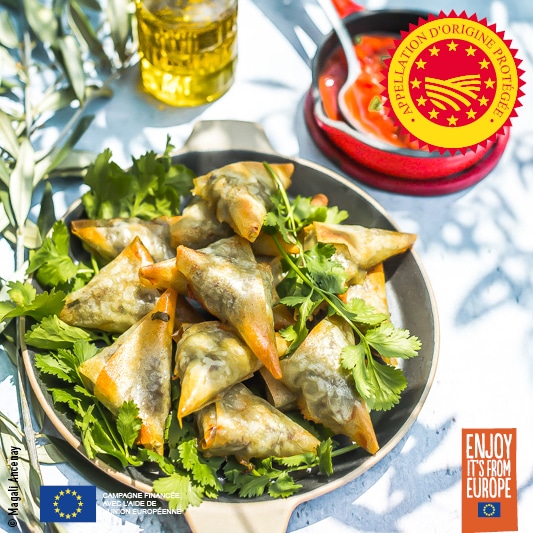 4 persons
15 minutes
10 minutes
minutes
Cost
Difficulty
Olive oil or Olives used :
PDO huile d'olive de Nîmes
Tips and tricks
We advise you to use an intense-tasting PDO huile d'olive de Nîmes for its aromas of greenery, dry hay, pineapple, yellow plum and raw artichoke, sometimes rounded off with notes of red plum and apple.
You can also use one of these PDO olive oils: Aix-en-Provence, Corse – Oliu di Corsica, Haute-Provence, Provence, Vallée des Baux-de-Provence.
Ingredients
6 brick pastry sheets
300 g ground beef
1/2 bunch of coriander
60 g grated PDO Comté
1 pinch PDO Espelette pepper
1 onion
2 tbsp PDO huile d'olive de Nîmes
1 garlic clove
1 piece of ginger
Salt, pepper
Preheat the oven to 180°C.
Peel and finely chop the onion.
Wash and finely chop the coriander.
Mix meat, onion, coriander, grated ginger, 1 tablespoon olive oil, minced garlic clove, Espelette pepper and grated Comté.
Cut the brick pastry sheets in four and brush with olive oil. Place a little of the meat mixture on one end of the strip, fold the tip over the filling, fold into a triangle from the corner to the opposite edge.
Bake for about ten minutes. Serve with a green salad drizzled with olive oil.
Recipe made for EcceOlio program, financed by the European Union.