Brioche Butchy with PDO huile d'olive de Nice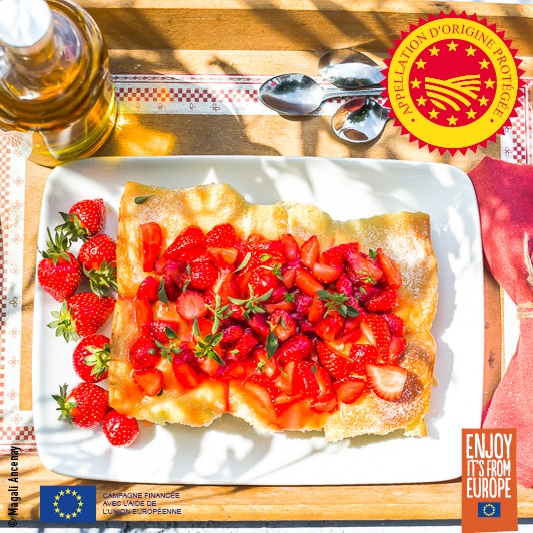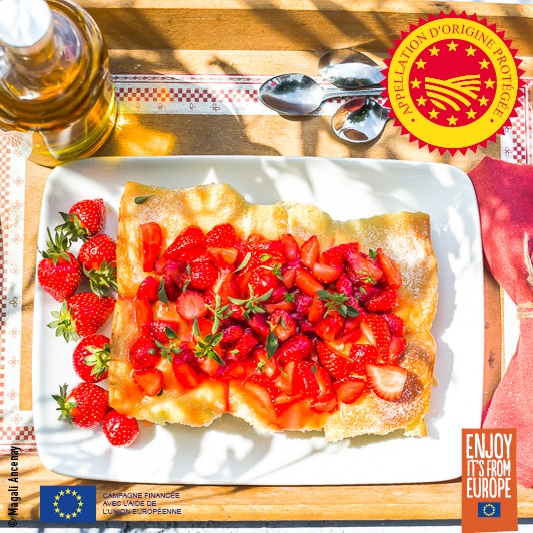 6 persons
30 minutes
35 minutes
300 minutes
Cost
Difficulty
Olive oil or Olives used :
PDO huile d'olive de Nice
Tips and tricks
We advise you to use a delicate-tasting PDO huile d'olive de Nice for its sweetness and its aromas of almond, raw artichoke, broom flours, hay, grass, leaves, pastry, ripe apple and dried fruit, and its lemony notes.
You can also use one of these PDO olive oils: Nyons and Corse – Oliu di Corsica – récolte à l'ancienne.
Ingredients
510 g type 45 flour
12 g baker's fresh yeast
60 g whole milk
2 eggs
2 tbsp PDO huile d'olive de Nice
200 g full fat cream
110 g sugar
1 tsp salt
Icing sugar
Strawberry compote:
250 g strawberries
2 tbsp PDO huile d'olive de Nice
1 tbsp sugar
Crumble the yeast in 50 g of flour and add the lukewarm milk. Let it rest for 15 minutes.
Pour the remaining flour, sifted, in the bowl of your food processor, add the yeast, the eggs, olive oil, cream, sugar and salt in this order and knead for about 10 minutes at medium speed. Stop kneading when the dough is peeling off the walls.
Cover with a tea towel and put aside for at least 3 hours, until the dough has doubled in size.
Degas the dough and knead for a few more minutes. Degassing will allow a more homogeneous rising of the dough. Flour your worktop, shape 8 to 12 balls of dough of roughly equal weight.
Place the dough balls, without them touching each other, in the tin of your choice. Cover with a cloth and let it rise again for at least 2 hours.
Once the second rising time has elapsed, brush the brioche with a little milk and bake for 30 minutes at 150 ° C. Out of the oven, brush a little olive oil on the brioche and sprinkle with icing sugar.
Wash the strawberries, cut them into 2 or 4 (depending on their size) pieces. Set aside half of them. Mix the olive oil and sugar in a frying pan, add half the strawberries. Let them caramelise for a few minutes (3 to 5 minutes).
Placer the caramelised strawberries and fresh strawberries on the cooled brioche.
Recipe made for EcceOlio program, financed by the European Union.