Caesar salad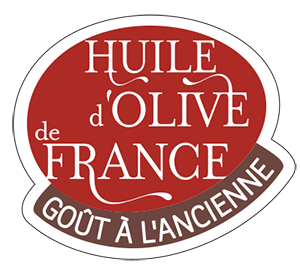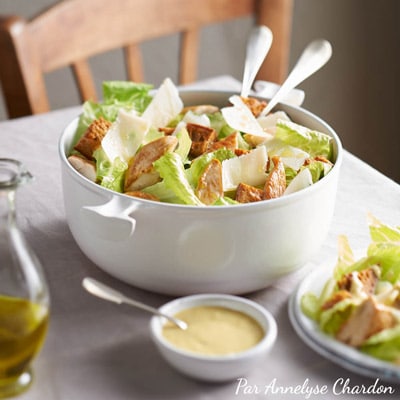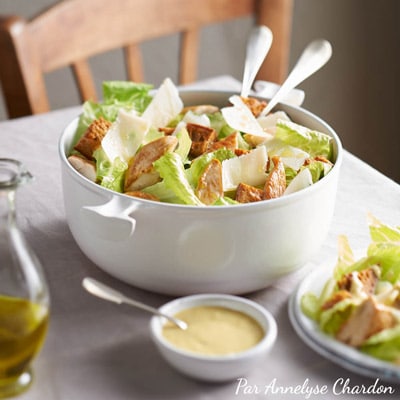 4 persons
10 minutes
10 minutes
0 minutes
Cost
Difficulty

Olive oil or Olives used :
Vallée des Baux de Provence PDO
Tips and tricks
The tips and tricks of Annelyse : prepare the croutons with "old" bread and keep them in a hermetic box, then you will still have some to put on salads or soups !
Ingredients
2 chicken fillets
1/2 tsp sugar
The juice of 1/2 yellow lemon
1 "romaine" lettuce
For croûtons :
4 slices of bread
1 garlic clove
1/2 tsp Espelette pepper
2 tbsp traditional olive oil
For the sauce :
1 crushed garlic clove
1 tsp mustard
1 egg yolk
120ml traditional olive oil (Vallée des Baux de Provence PDO)
1 tbsp cider vinegar
1 tsp water
Some drops of yellow lemon
1 tsp Worcestershire sauce (or 1 crushed anchovy fillet)
50g Parmesan cheese chips
Salt,pepper
Prepare the croutons : cut the bread into small squares. Crush the garlic clove with olive oil and Espelette pepper, and blend with bread squares. Spread on a baking sheet and cook in the oven for 10 min to 150°C.

Heat 1 tbsp olive oil in a stove, brown chicken fillet (on each side) for 10 min. Salt and pepper, add 1/2 tsp sugar and the juice of 1/2 lemon. Mix and caramelize. Cut the meat into slices.

Wash the salad and cut it into slices. Laver la salade puis la couper en tronçons.

Prepare the sauce : mix the mustard, crushed garlic clove and egg yolk, beat vigorously by adding olive oil very slowly (as for a mayonnaise). Add the vinegar, some drops of lemon juice, Worcestershire sauce, water and the half of Parmesan cheese chips. Blend.

In a large bowl, put first the salade, then the sliced chicken fillets, the remaining Parmesan cheese chips and croutons. Coat of sauce.
Thanks to Annelyse Chardon