Christstollen with PDO huile d'olive de Nyons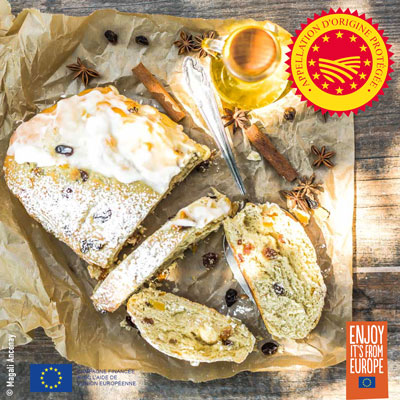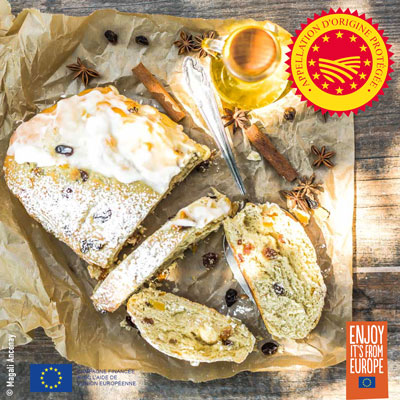 8 persons
15 minutes
35 minutes
135 minutes
Cost
Difficulty
Olive oil or Olives used :
PDO huile d'olive de Nyons
Tips and tricks
For an even more scrumptious Christollen, ice it by mixing 100g icing sugar with the juice of half a lemon and 1 tbsp. olive oil.
Ingredients
6 cl milk
5 g dry baker's yeast
250 g flour
2 eggs
25 g brown sugar
8 cl PDO huile d'olive de Nyons
80 g raisins
50 g slivered almonds
50 g candied lemon
50 g candied orange
1 tsp. salt
1 tsp. Christmas spices
1 tbsp. rum
Slightly warm the milk and mix in the yeast. Leave to stand in a warm place
for around 15 minutes.
Mix the flour into the yeast/milk mixture, then the sugar, olive oil, whole
eggs, salt and rum.
Dice the candied lemon and orange. Add the dices to the dough, along with the raisins and slivered almonds. Knead for at least ten minutes, until the dough is elastic. Shape the dough into a ball and leave to rise in a warm place for at least 1 hr.
Knead the dough again briefly and shape it into a loaf. Place it on a baking sheet and leave it to rise for at least 1 hr.
Bake for 35 minutes in an oven preheated to 180°C. Sprinkle with icing sugar before serving cool.