Creamed courgettes with fresh mint and chick peas, PDO huile d'olive de la Vallée des Baux-de-Provence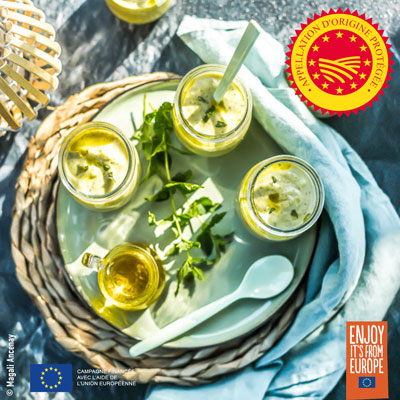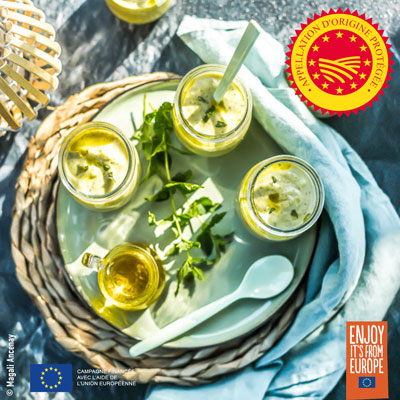 4 persons
15 minutes
30 minutes
120 minutes
Cost
Difficulty
Olive oil or Olives used :
PDO huile d'olive de la Vallée des Baux-de-Provence
Tips and tricks
Serve in small glasses for a light appetizer or as a starter for a summer dinner.
Ingredients
3 medium-sized (around 250g) untreated courgettes (to keep the skin and the nice green colour!)
100 g fromage blanc
2 tbsp. PDO huile d'olive de la Vallée des Baux de Provence + 1 drizzle when serving
Twenty fresh mint leaves
75g cooked chick peas
1 garlic clove
Salt & pepper
Wash the courgettes, remove the ends, then cut into chunks and cook for 30 minutes (preferably through steaming).
Drain (keep some of the cooking water), then leave to cool completely.
Drain the chick peas.
Wash and dry the mint leaves, setting a few aside for decoration if you want.
In a blender, mix the pieces of courgette with a little cooking water, the fromage frais, the pressed garlic clove, the mint leaves, the olive oil, the chick peas, salt and pepper. If the mixture is a little too thick, add a little more cooking water.
Refrigerate for several hours, then serve with a drizzle of olive oil and a sprig of mint.