Eggplant candied in the olive oil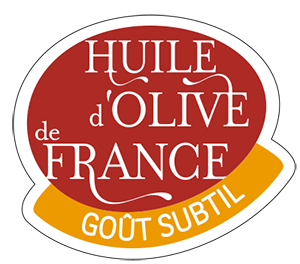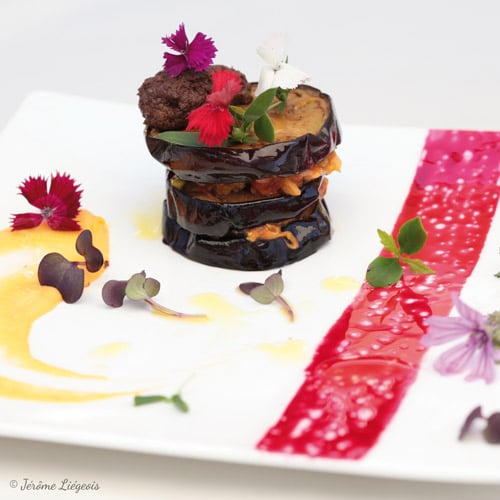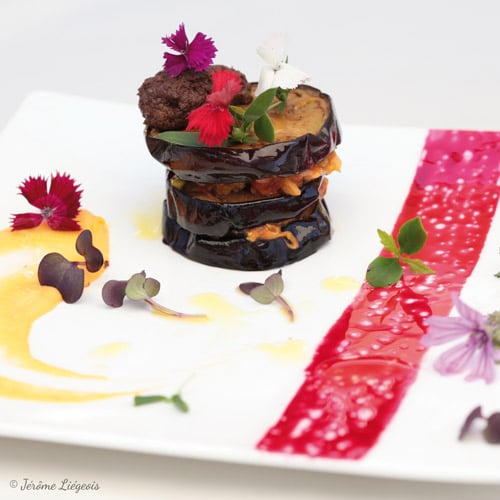 4 persons
30 minutes
40 minutes
0 minutes
Cost
Difficulty

Olive oil or Olives used :
Nyons PDO
Tips and tricks
We advise olive oils from Nyons PDO, Nice PDO, of Cailletier, Tanche, Lucques, Négrette variety.
Ingredients
2 eggplants
8 tomatoes
7 garlic cloves
Thyme flowers
Thyme
1 onion
1 picodon – typical goat cheese from Drôme
40 cl cream
Olive oil – subtle taste
Wash and cut the eggplants into slices of 1 to 2 cm. Bake in oven with olive oil, salt, pepper and 4 garlic cloves for 30 min to 120°C.

Wash, take the skin off by soaking them into hot water, take the seeds off and cut the tomatoes.

Brown chopped onions and garlic in olive oil. Add tomatoes and thyme, cook on low heat for 40 min. Stop the heat and add thyme flower and infuse for 10 min.

Prepare the picodon chantilly : melt the picodon and cream in a saucepan (low heat), salt and pepper. Put in a siphon.

Prepare the plate : put a slice of candied eggplant, then tomato sauce, repeat to get 4 slices of eggplant. Serve with picodon chantilly and with a salad (as a starter).
Thanks to Christophe Malet, Restaurant D'un goût à l'autre in Nyons