Fresh salad with PDO huile d'olive d'Aix-en-Provence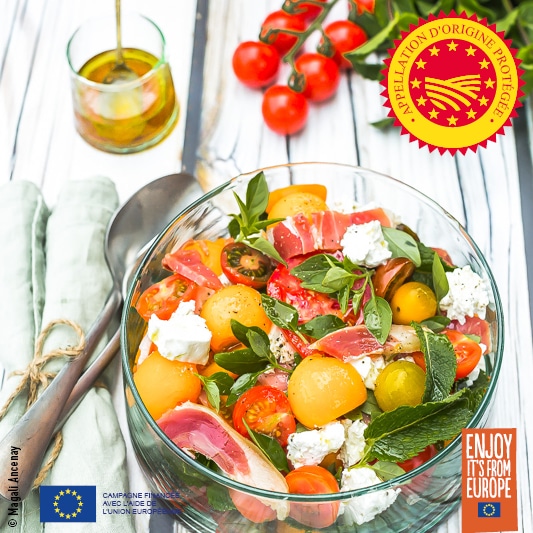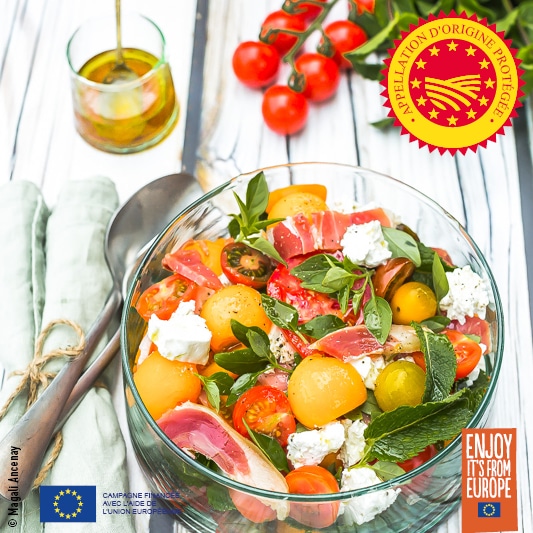 4 persons
15 minutes
minutes
minutes
Cost
Difficulty
Olive oil or Olives used :
PDO huile d'olive d'Aix-en-Provence
Tips and tricks
For this salad, we advise you to use an intense-tasting PDO huile d'olive d'Aix-en-Provence for its aromas of fresh-cut grass and/or raw artichoke, sometimes rounded off with notes of walnut, fresh hazelnut and red berries. You can also use one of these PDO olive oils: Vallée des Baux-de-Provence, Nîmes, Haute-Provence, Corse – Oliu di Corsica or Provence.
Ingredients
½ melon
3 multi-coloured tomatoes
1 handful of cherry tomatoes
A few mint leaves
½ bunch of basil
1 handful of arugula
Fresh goat cheese (or PDO mozzarella di buffala Campana)
2 thick slices of PGI Bayonne ham
1.5 tbsp of Modena balsamic vinegar
3 tbsp PDO huile d'olive d'Aix-en-Provence
Salt, pepper
Peel the melon and remove the seeds. Make balls using a melon baller (or cut it into cubes). Wash the tomatoes. Cut the cherry tomatoes in half, the tomatoes into medium slices.
Cut the cheese into cubes and the ham into thick strips.
Wash and chop the fresh herbs (mint, basil), wash the arugula.
Prepare the dressing by mixing vinegar and olive oil, seasoning to your liking.
Mix everything in a bowl and serve the salad well chilled.
Recipe made for EcceOlio program, financed with aid from the European Union