Flammekueche with PDO huile d'olive de Nyons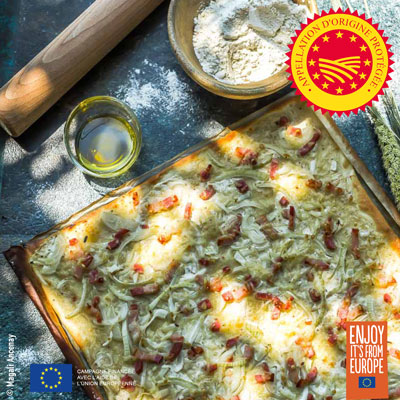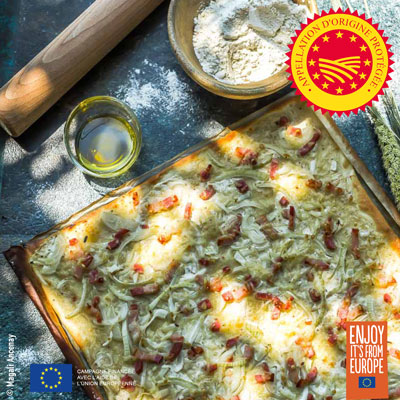 6 persons
30 minutes
10 minutes
minutes
Cost
Difficulty
Olive oil or Olives used :
PDO Huile d'olive de Nyons
Tips and tricks
Add grated Gruyère or Munster cheese just before you put the pie in the oven.
Ingredients
For the dough:
250 g flour
25 ml PDO huile d'olive de Nyons
A pinch of salt
15ml lukewarm water
For the topping:
75 g thick crème fraîche
75 g fromage blanc
1 large onion
100 g smoked bacon, diced
Pepper
Grated nutmeg
2 tbsp. PDO huile d'olive de Nyons
Option: grated Gruyère or Munster cheese
Prepare the dough:

Mix the flour with the salt, olive oil and lukewarm water, and then knead (if possible with a food processor).
Finely roll out the dough.

Prepare the topping:

In a bowl, mix the crème fraîche and the fromage blanc. Add the pepper, grated nutmeg and olive oil.
Preheat the oven to 230°C.
Chop the onion into fairly thin pieces.
Lay the dough on a baking sheet lined with greaseproof paper.
With a spatula, spread the topping onto the dough, leaving an outer crust.