Ginger Christmas Cookies with cinnamon and PDO huile d'olive de Nice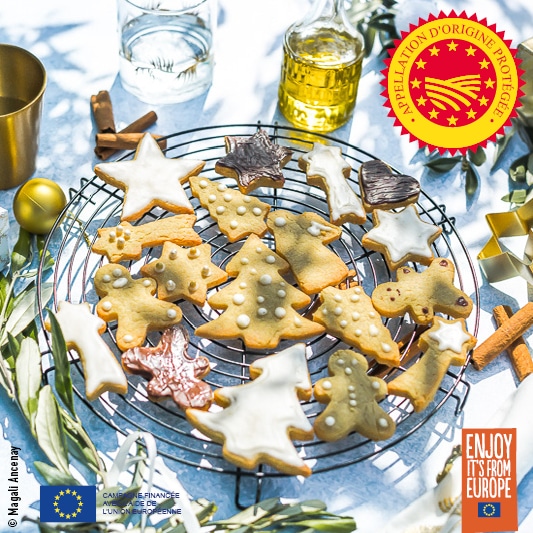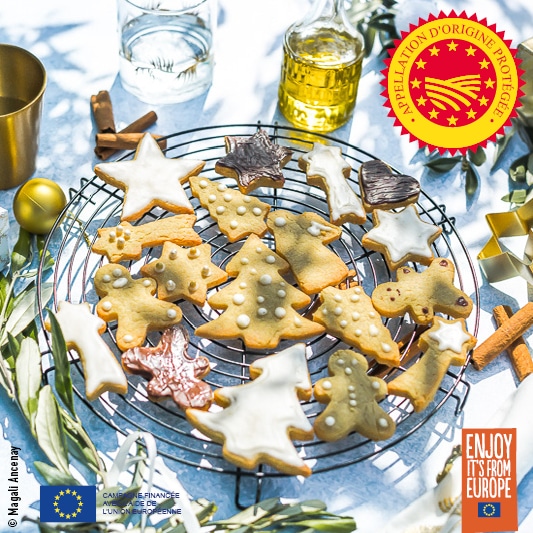 6 persons
20 minutes
20 minutes
30 minutes
Cost
Difficulty
Olive oil or Olives used :
PDO huile d'olive de Nice
Tips and tricks
You can also decorate your Christmas cookies with melted chocolate or colour your royal icing with food colouring
We advise you to use a delicate-tasting PDO huile d'olive de Nice for its sweetness and its aromas of almond, raw artichoke, broom flours, hay, grass, leaves, pastry, ripe apple and dried fruit, and its lemony notes.
You can also use one of these PDO olive oils: Nyons and Corse – Oliu di Corsica – récolte à l'ancienne.
Ingredients
370 g flour
180 g brown cane sugar
55 g white sugar
80 g soft butter
10 cl PDO huile d'olive de Nice
1 egg, beaten
5 g baking powder
1 tsp cinnamon
1 tsp ginger
A pinch of salt
Ice sugar
For the royal icing: 150 g sifted icing sugar, 1 egg white.
In a bowl, combine the sugars and the soft butter. Drizzle in the olive oil, stirring constantly. Then add the spices to the preparation: cinnamon, ginger and salt. Continue adding the beaten egg, then the flour and baking powder.
Form a ball, wrap in clingfilm and keep in the fridge for about 30 minutes.
Preheat the oven to 180°C (th. 6). Flour the worktop before rolling the dough out to about 4 mm thick. Cut the Christmas cookies from the dough using a cookie cutter of your choice. Sprinkle them with icing sugar and place on a baking tray lined with baking paper, bake for 15 to 20 minutes. Once baked, let them cool on a wire rack before decorating.
Prepare the royal icing by gradually mixing the egg white with the icing sugar (adjust for a consistency neither too firm nor too soft). Place in a cone (made from baking paper) or in a piping bag with a fine nozzle and decorate these Christmas cookies according to your taste.
Recipe made for EcceOlio program, financed with aid from the European Union.