Great scallops/St James shells, parsnip and truffle mash with PDO huile d'olive de Nice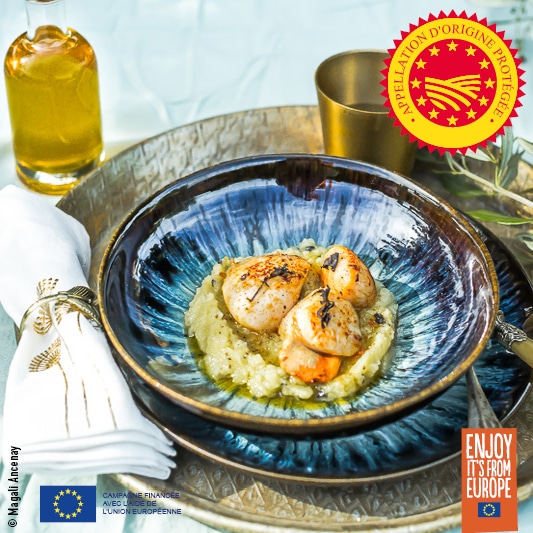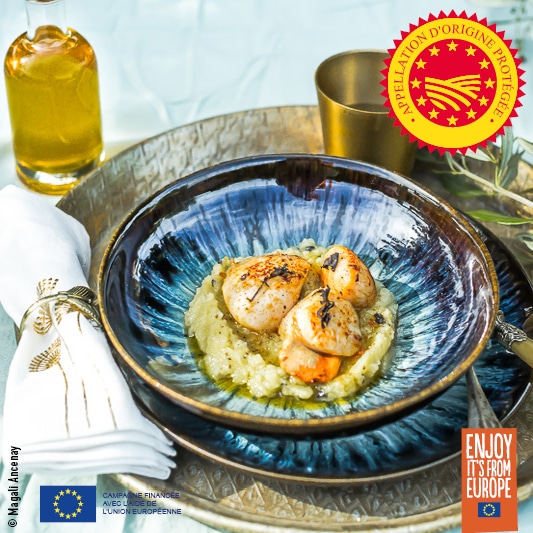 4 persons
20 minutes
25 minutes
minutes
Cost
Difficulty
Olive oil or Olives used :
PDO huile d'olive de Nice
Tips and tricks
We advise you to use a delicate-tasting PDO huile d'olive de Nice for its sweetness and its aromas of almond, raw artichoke, broom flours, hay, grass, leaves, pastry, ripe apple and dried fruit, and its lemony notes.
You can also use one of these PDO olive oils: Nyons and Corse – Oliu di Corsica – récolte à l'ancienne.
Ingredients
12 great scallops/St James shells
2 tbsp PDO huile d'olive de Nice
1 little piece of butter
½ tsp grated ginger
1/2 tsp cardamom
Himalayan salt
Sichuan pepper
For the mash:
1 kg parsnips
50 cl milk
3 tbsp PDO huile d'olive de Nice
50 g truffle chips
Salt, pepper
Prepare the scallops: combine olive oil, ginger and cardamom. Pour this marinade over the scallops, season with salt and pepper, set aside.
Wash, peel and slice the parsnips.
In a saucepan, cook the parsnips in salted milk. When the parsnips are cooked, mash them by adding the olive oil and then the truffle chips. Keep warm.
Heat the butter in a frying pan, cook the scallops (without their marinade) on each side (the cooking time must be adjusted according to their size, be careful not to overcook them).
Serve on a plate per person, first place the mash and then arrange 3 scallops per person, sprinkle with Sichuan pepper and Himalayan salt.
Recipe made for EcceOlio program, financed with aid from the European Union