Ham hock, vegetables, potatoes and PDO huile d'olive de Provence – olives maturées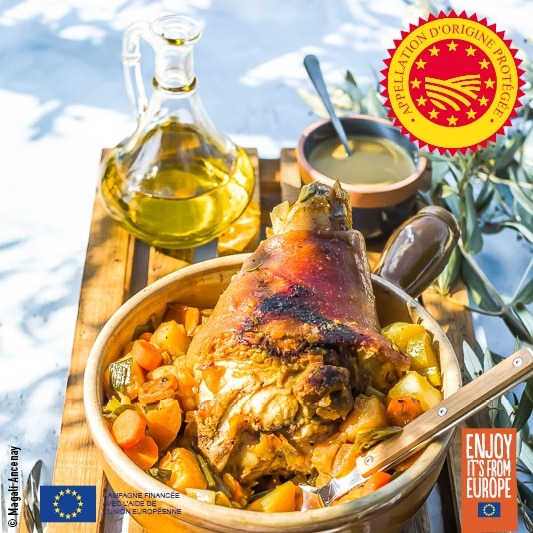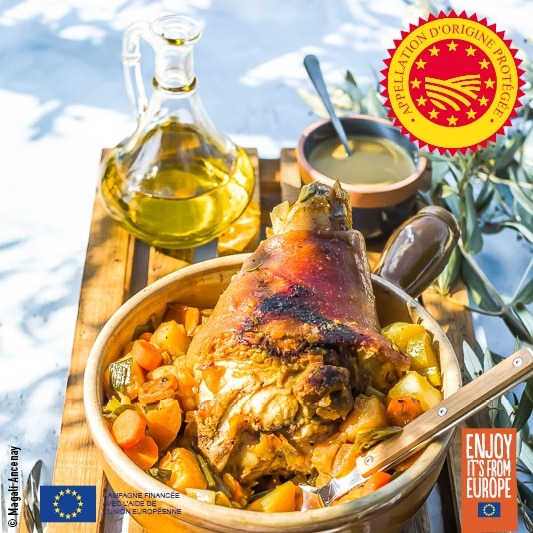 6 persons
30 minutes
120 minutes
minutes
Cost
Difficulty
Olive oil or Olives used :
PDO huile d'olive de Provence - olives maturées
Tips and tricks
We advise you to use a traditional-tasting PDO huile d'olive de Provence – olives maturées (matured olives) for its sweetness and aromas of black olives, candied fruit, undergrowth and/or toasted bread. You can also use PDO huile d'olive de la Vallée des Baux-de-Provence – olives maturées and PDO huile d'olive d'Aix-en-Provence – olives maturées.
Ingredients
2 ham hock
4 carrots
6 potatoes
2 leeks
4 turnips
1 bouquet garni
1 onion
2 garlic cloves
3 tbsp PDO huile d'olive de Provence – olives maturées
2 lt veal stock
2 tbsp mustard
2 petits suisses (a very fresh French cheese, un-ripened, unsalted and smooth) or 2 tbsp thick crème fraiche
1/2 teaspoon caraway seeds
Salt, pepper
Peel and slice the onion, set aside. Wash, peel and cut all other vegetables into pieces (medium size).
Pour 2 tablespoons of olive oil in a casserole dish and heat slightly. Brown the ham hock on all sides, add the minced onion. Once the onion is translucent, fill the casserole with water and bring to a boil. Turn off the fire, collect the ham hock and onion, throw away the water.
Return the ham hock to the casserole and add the cut vegetables and caraway seeds. Cover with broth and simmer, put on the lid, over a low heat for 1 hour. Then remove the lid and simmer for another 30 minutes.
Turn off the heat and let stand.
Take 3 ladles of broth and reduce it in a saucepan, over medium heat, for 15 minutes. Add 1 tablespoon of olive oil, mustard and petits suisses (crème fraiche). Whisk.
Put the meat and vegetables on a serving dish and serve with the sauce and pickles.
Recipe made for EcceOlio program, financed with aid from the European Union