Herring toast with PDO huile d'olive de Nîmes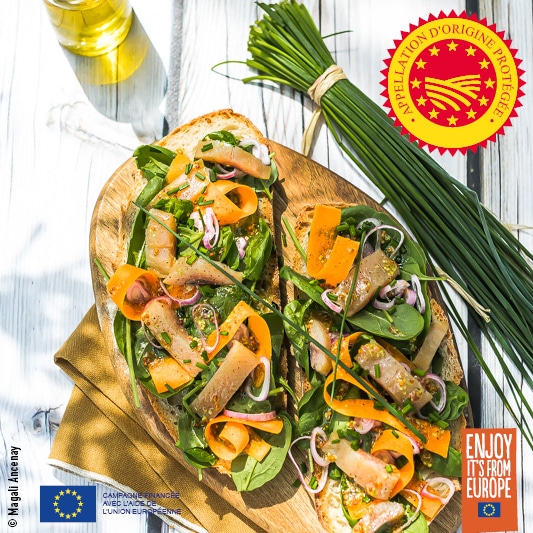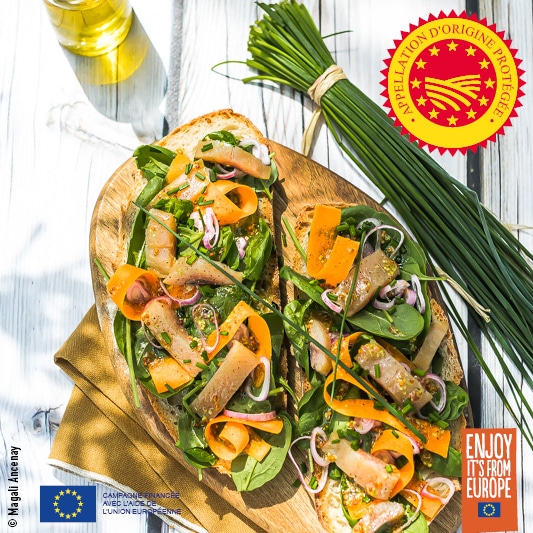 4 persons
15 minutes
minutes
minutes
Cost
Difficulty
Olive oil or Olives used :
PDO huile d'olive de Nîmes
Tips and tricks
If you serve them as a starter, plan 1 toast per person. You can also offer it on a mini toast as an aperitif!
We advise you to use an intense-tasting PDO huile d'olive de Nîmes for its aromas of greenery, dry hay, pineapple, yellow plum and raw artichoke, sometimes rounded off with notes of red plum and apple. You can also use one of these PDO olive oils: Aix-en-Provence, Corse – Oliu di Corsica, Haute-Provence, Provence, Vallée des Baux-de-Provence.
Ingredients
8 slices of country bread
4 – 6 smoked herrings
2 scallions (or 2 spring onions)
2 carrots
A few radishes
A few spinach shoots
Chives
About 20 PDO olives de Nîmes
4 tbsp green tapenade with PDO olives de Nîmes
3 tbsp PDO huile d'olive de Nîmes
1 tbsp of apple cider vinegar
1.5 tsp mustard
Pepper
Cut the herrings into strips.
Cut the scallions into thin slices and mince the chives. Wash and peel the carrots then cut, using a peeler, thin carrot tagliatelle. Wash and cut the radishes into slices.
Pit the PDO olives de Nîmes and cut them into cubes or slices.
In a bowl, combine herring strips, scallions, radishes, carrots, olives and chives.
Prepare the dressing by mixing olive oil, vinegar, mustard and pepper. Pour over the other ingredients and mix. Set aside in the fridge.
Toast the slices of bread, spread the green tapenade on them and then place some of the mixture on each. Finish with a few spinach shoots. Serve with a green salad.
Recipe made for EcceOlio program, financed with aid from the European Union.