Lamb / melon skewers with PDO huile d'olive de Haute-Provence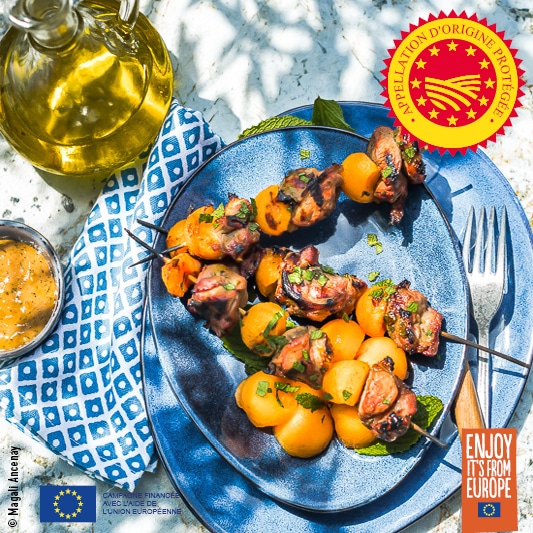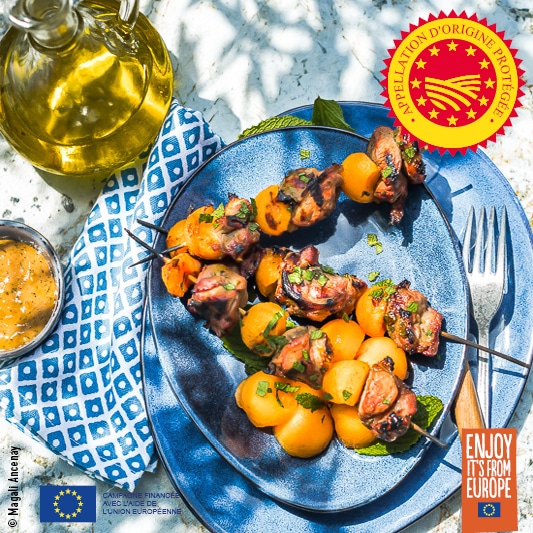 4 persons
20 minutes
20 minutes
60 minutes
Cost
Difficulty
Olive oil or Olives used :
PDO huile d'olive de Haute-Provence
Tips and tricks
We advise you to use an intense-tasting PDO huile d'olive de Haute-Provence for its aromas of raw artichoke, banana, freshly cut grass, apple and fresh almond.
You can also use one of these PDO olive oils: Vallée des Baux-de-Provence, Provence, Nîmes, Aix-en-Provence, Corse – Oliu di Corsica.
Ingredients
400 g lamb shoulder
1 melon
6 sprigs of mint
2 tbsp PDO huile d'olive de Haute-Provence
Juice of 2 lemons
1 tsp honey
Nutmeg
Espelette pepper
Cumin
Salt, pepper
Chop the mint leaves (reserve a few for serving). Prepare the marinade by mixing the lemon juice, olive oil, half a teaspoon of honey and the spices. Season with salt and pepper and then add chopped mint.
Dice the lamb (about 3 cm x 3 cm). In an airtight container, mix the lamb and the marinade. Refrigerate for 30 minutes to an hour.
Cut the melon in half, take the seeds out, and make balls with the melon baller (otherwise, cut cubes of 3 cm x 3 cm, like the lamb).
Collect the diced lamb on a plate. Add half a teaspoon of honey to the marinade. Put the melon balls in the marinade and gently stir till they're well coated.
Assemble the skewers, interspersing the cubes of lamb and the melon balls. Using a brush, brush the skewers with the remaining marinade. Cook the skewers on the barbecue or in a frying pan. Serve with the remaining mint leaves.
Recipe made for EcceOlio program, financed with aid from the European Union