Lemon & poppy seed cake with PDO huile d'olive de Nice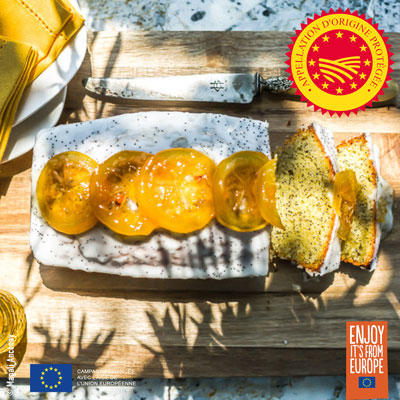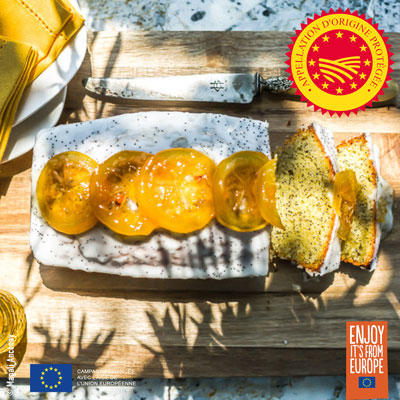 6 persons
10 minutes
35 minutes
120 minutes
Cost
Difficulty
Olive oil or Olives used :
PDO huile d'olive de Nice
Tips and tricks
For an original touch in the icing, you can replace the juice of one lemon with the juice of half a lemon and 1 tbsp. PDO olive oil from Nice.
Ingredients
2 untreated lemons
3 eggs
140 g sugar
180 g flour
2 tsp. baking powder
1 tbsp. poppy seeds
1 pinch of salt
12 cl PDO huile d'olive de Nice
Icing:
100 g icing sugar
The juice of 1 lemon
Grate the zest from the lemons, then squeeze their juice and set this aside.
Whip the whole eggs with the sugar until the mixture whitens and doubles in volume. Add the zest and juice of the 2 lemons.
In a bowl, mix the flour with the baking powder, the poppy seeds and the salt. Gradually mix this into the egg/sugar/lemon mixture using a whisk to avoid lumps. Then add the olive oil.
Pour the mixture into a greased cake tin and bake for 35 minutes in an oven preheated to 180°C. Check to see whether the cake is cooked by inserting a knife in it. It the blade comes out clean, the cake is cooked. Allow to cool completely before removing from the tin.
Prepare the icing by mixing the icing sugar with the lemon juice. Ice the cold cake with this mixture. Allow to harden at room temperature for 1 to 2 hrs. As an option, you can decorate the cake with slices of candied lemon.