Niçoise salad, with PDO huile d'olive de Nice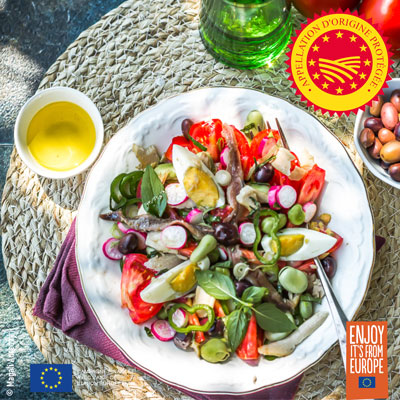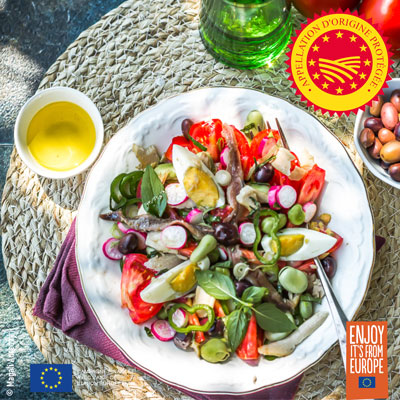 4 persons
20 minutes
8 minutes
60 minutes
Cost
Difficulty
Olive oil or Olives used :
PDO huile d'olive de Nice
Tips and tricks
We advise you to use a delicate-tasting PDO olive oil from Nice for its sweetness and its aromas of almond, raw artichoke, broom flours, hay, grass, leaves, pastry, ripe apple and dried fruit, and its lemony notes.
You can also use one of these PDO olive oils: Nyons and Corse – Oliu di Corsica – récolte à l'ancienne.
Ingredients
4 round tomatoes, fairly firm
4 eggs
2 spring onions (or small onions)
12 baby broad beans
1 green pepper
200g tuna in brine
8 salted anchovy fillets
PDO olives de Nice
Basil leaves
8 radishes
Red wine vinegar
PDO huile d'olive de Nice
Pepper & salt
Hard-boil the eggs (6 to 8 minutes after the water returns to the boil), then cool them in cold water.
Chop the spring onions and place them at the bottom of the serving dish.
Add the baby broad beans, the finely chopped pepper, the sliced radishes, and the well-drained flaked tuna. Quickly mix all of these ingredients, adding salt and pepper.
Cut the tomatoes into fine slices and add them. Cut the hard-boiled eggs into quarters and place them on top, along with the anchovy fillets, the olives and the finely chopped basil.
Lastly, sprinkle with salt and pepper, and drizzle with olive oil and wine vinegar.
Refrigerate for 1 hour. Mix well just before serving the salad.