Paris – style potato salad with PDO huile d'olive d'Aix-en-Provence olives maturées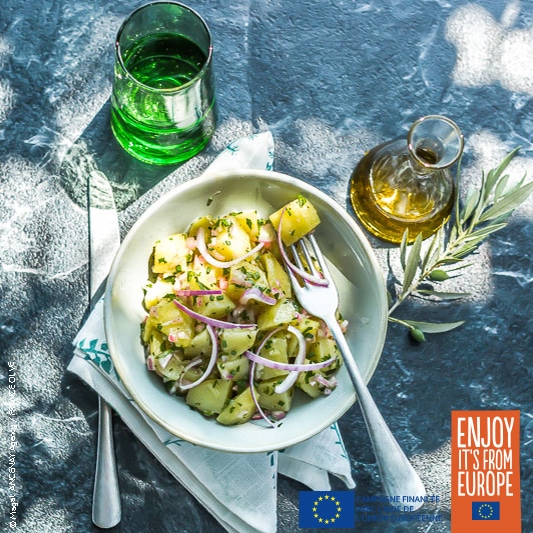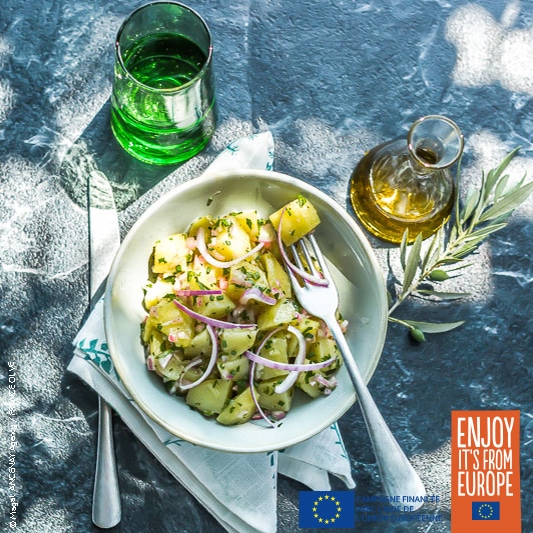 4 persons
15 minutes
20 minutes
minutes
Cost
Difficulty
Olive oil or Olives used :
PDO huile d'olive d'Aix-en-Provence olives maturées
Tips and tricks
You can also use PDO olive oil from Vallée des Baux-de-Provence – olives maturées.
Ingredients
1 kg potatoes (Charlotte, Belle de Fontenay, Franceline, etc.) of the same size
2 shallots
1 garlic clove
6 cl PDO huile d'olive d'Aix-en-Provence – olives maturées
2 cl white wine
2 cl cider vinegar
1 bunch of flat-leafed parsley
Fleur de Sel salt and freshly ground pepper
Place the unpeeled potatoes in a saucepan of cold salted water. Bring to a boil and cook for around 20 minutes.
Peel and finely chop the shallots. Wash and chop the parsley. Peel and chop the garlic clove. Combine all the ingredients with the olive oil and cider vinegar.
When the potatoes are cooked, peel them and cut them into large dices (or round slices if you prefer).
Pour the white wine onto the warm potatoes, then add the dressing and stir gently to avoid crushing the potatoes.
Sprinkle with 2 pinches of Fleur de Sel salt and pepper (2 turns of the pepper grinder). Serve lukewarm or cold.