Penne pasta all'arrabiata with PDO huile d'olive de Haute-Provence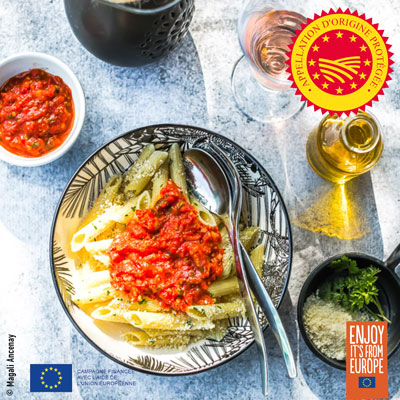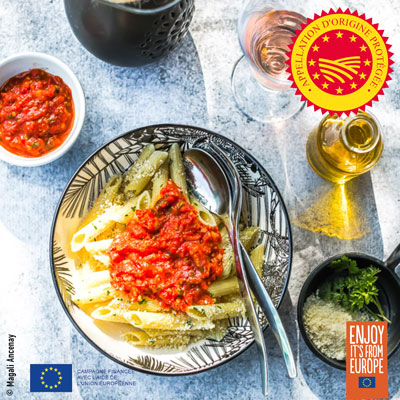 4 persons
20 minutes
20 minutes
minutes
Cost
Difficulty
Olive oil or Olives used :
PDO Huile d'olive de Haute-Provence
Tips and tricks
We advise you to use an intense-flavoured PDO olive oil from Haute-Provence for its aromas of raw artichoke, banana, grass, apple and fresh almond, and its bitterness and strength, which will give the pasta a unique and distinctive flavour.
You can also use one the following PDO olive oils: Vallée des Baux de Provence, Nîmes, Aix-en-Provence, Corse – Oliu di Corsica.
Ingredients
400 g penne pasta
4 good-size tomatoes (or 400 g peeled tomatoes)
2 small chilli peppers
2 garlic cloves
PDO huile d'olive de Haute-Provence
80 g Pecorino Romano cheese
Parsley
Salt
Scald the tomatoes for 1 minute then remove the skin (which will come off on its own). Coarsely chop the tomatoes.
Peel the garlic cloves then coarsely crush them with the blade of a knife.
In a frying pan, quickly sauté the garlic cloves in a little olive oil and add the finely chopped chilli pepper.
Add the tomatoes and cook until the sauce has thickened. Add salt. In the meantime, cook the penne pasta in a saucepan of salted boiling water. Drain the pasta when al dente and pour it directly into the sauce.
Add a good handful of chopped parsley, 1 tablespoon olive oil and sauté the pasta for one minute.
Serve the penne pasta all'arrabbiata in a deep plate and sprinkle with grated Pecorino.