Salmon – leek puff pastry with PDO huile d'olive de Corse – Oliu di Corsica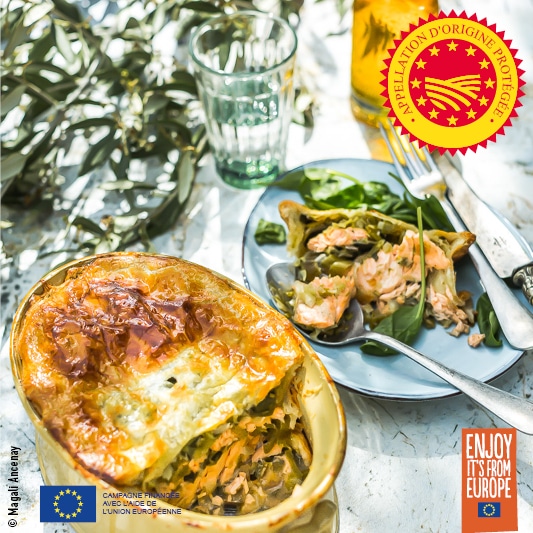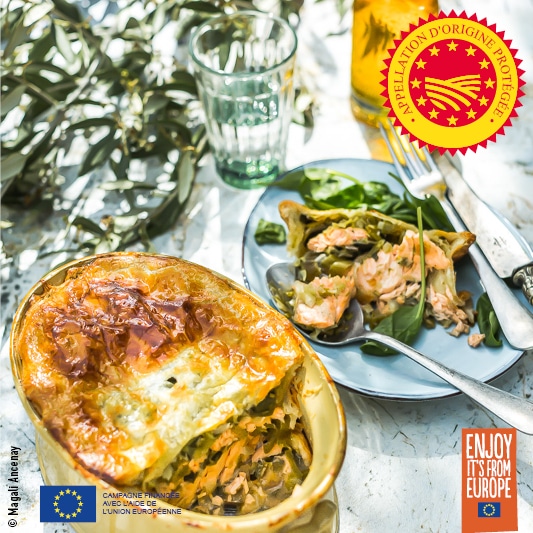 6 persons
20 minutes
35 minutes
30 minutes
Cost
Difficulty
Olive oil or Olives used :
PDO huile d'olive de Corse - Oliu di Corsica
Tips and tricks
You can make individual pies on the same principle as one big one.
We advise you to use an intense-tasting PDO huile d'olive de Corse – Oliu di Corsica for its aromas of almond, artichoke, hay, dried fruits and apple. You can also use one of these PDO olive oils: Aix-en-Provence, Haute-Provence, Nîmes, Provence, Vallée des Baux-de-Provence.
Ingredients
2 puff pastry sheets
1,2 kg salmon steaks
4 leeks
1 onion
3 tbsp PDO huile d'olive de Corse – Oliu di Corsica
1 lime (grated peel – juice)
1 egg yolk
Espelette pepper
1 tsp grated nutmeg
1/2 tsp cardamom
1/2 tsp fennel seeds
Salt, pepper
Wash and cut the leeks into half-rounds. Peel and finely chop the onion.
In a frying pan, sauté the onion in 1 tbsp of olive oil. When the onion is golden-brown, add the leeks. Season with salt, pepper and the grated nutmeg. Cook for about 10 minutes. Put aside.
Combine 2 tablespoons of olive oil, lime peel and juice, cardamom, fennel seeds, salt, pepper and Espelette pepper. Pour over the salmon and leave to marinate in the fridge for 30 minutes.
Preheat the oven to 180°C.
Roll out the first puff pastry sheet, it should line the edges of your pie tin. Divide your leek mixture into three equal parts and your salmon into two parts. Alternate layers of the leek mixture (under, middle, top) and the marinated salmon. Place the other puff pastry sheet on top. Seal the edges, cut off the excess dough and brush the dough with a beaten egg yolk. Make a hole in the middle (for the steam to escape) then decorate (you can form scales with a half-round form for example).
Bake for 20 to 30 minutes.
Recipe made for EcceOlio program, financed by the European Union.