Savoury scones with PDO huile d'olive de Haute-Provence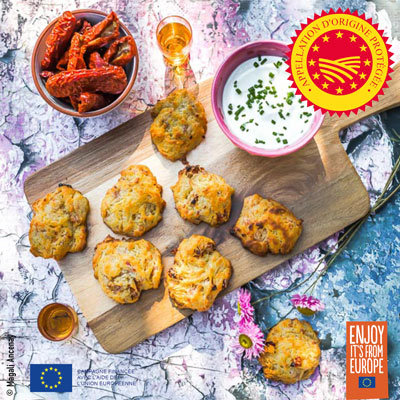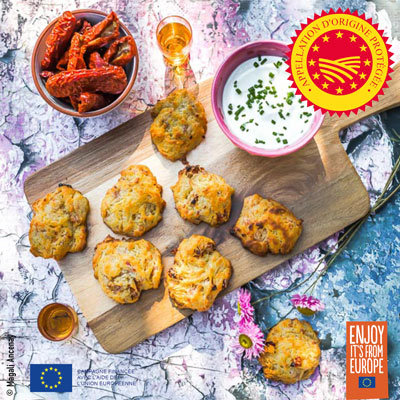 6 persons
15 minutes
10 minutes
minutes
Cost
Difficulty
Olive oil or Olives used :
PDO huile d'olive de Haute-Provence
Tips and tricks
You can eat the scones on their own or with chive-flavoured crème fraîche.
Ingredients
250 g flour
1 tsp. baking powder
25 g softened salted butter
10 cl + 1tbsp PDO huile d'olive de Haute-Provence
50 g bacon
10 dried tomato flakes (or green olive flakes)
1 beaten egg
20 cl + 1tbsp milk
50 g grated PDO Comté (or Emmental) cheese
Preheat the oven to 200°C (Gas 6).
Cut the bacon into small pieces. In a bowl, mix the flour, baking powder and olive oil. Add the softened butter and mix until you get a coarse-textured dough. Add the beaten egg, the 20cl of milk, the bacon, the dried tomatoes cut into small pieces and the grated cheese. Mix until you get a smooth dough.
Place lumps of dough onto a baking sheet lined with greaseproof paper. Mix the tablespoon of milk with the tablespoon of olive oil and brush the mixture onto the lumps of dough.
Place the baking sheet in the oven and bake for 10 to 12 minutes. The scones should be well risen and have a slight golden colour.