Smoked salmon bagel with PDO huile d'olive d'Aix-en-Provence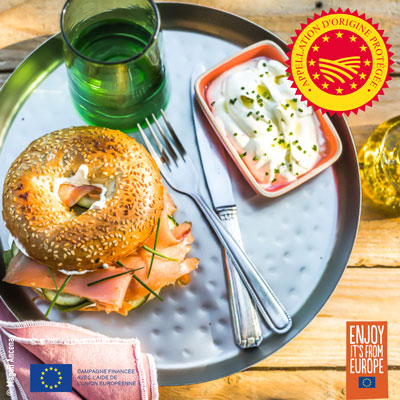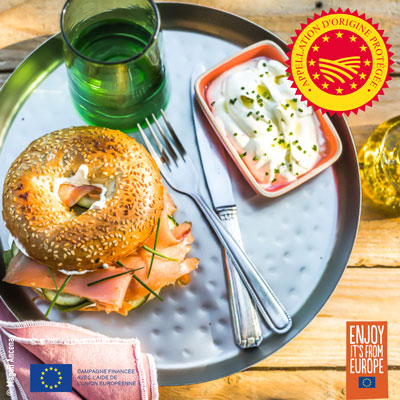 1 persons
20 minutes
5 minutes
60 minutes
Cost
Difficulty
Olive oil or Olives used :
PDO Huile d'olive d'Aix en Provence
Tips and tricks
You can also use one of these PDO olive oils: Vallée des Baux-de-Provence, Nîmes, Haute-Provence, Corse – Oliu di Corsica or Provence.
Ingredients
1 bagel
2 slices of smoked salmon
Fromage Frais
PDO huile d'olive d'Aix-en-Provence
Salt & pepper
Chives
2 small courgettes
½ avocado
Salt & pepper
Marinade:
1 lemon
3 tbsp. PDO huile d'olive d'Aix-en-Provence
Pepper
Salt
Herbes de Provence
Wash the courgettes, cut them into fine slices (or strips), and put them into a bowl.
Remove the zest from the lemon and set it aside. Squeeze the juice from the lemon. Mix it with the other marinade ingredients and pour this over the sliced courgettes. Marinate in the refrigerator for 1 hr.

Stir 1 tbsp. olive oil into the Fromage Frais to soften it. Add part of the finely chopped chives, pepper and a little lemon zest. Cut the bagel in half horizontally and toast it under the oven grill for 5 minutes. Generously
spread the Fromage Frais onto the two bagel halves.

Cut the half-avocado into slices and lay them on the first bagel half in a circular fashion. Cover with a first slice of smoked salmon.
Place the marinated courgettes on top. Add the other slice of salmon.
Sprinkle with chopped chives. Cover with the top bagel half.