Spaghetti with pesto & tomatoes flavoured with PDO huile d'olive de la Vallée des Baux-de-Provence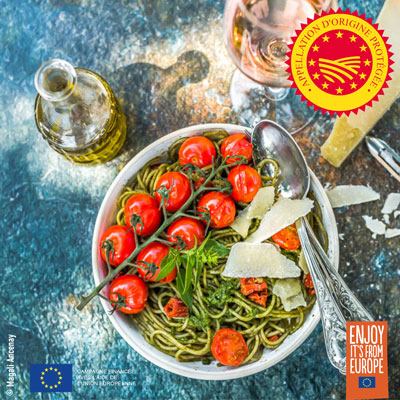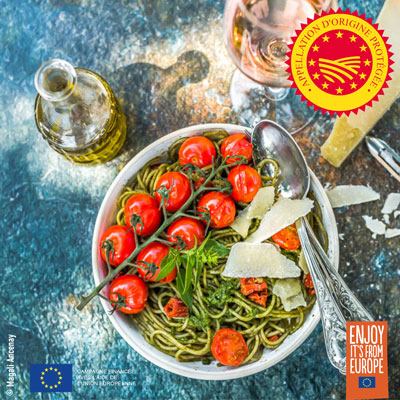 4 persons
15 minutes
10 minutes
minutes
Cost
Difficulty
Olive oil or Olives used :
PDO huile d'olive de la Vallée des Baux-de-Provence
Tips and tricks
You can add a few Lucques du Languedoc PDO olive flakes.
Ingredients
400 g spaghetti
Ten cherry tomatoes
4 dried tomato flakes
A few basil leaves
Grated Parmesan
Home-made pesto:
2 garlic cloves
50 g basil leaves
100 g Parmesan
10 cl PDO huile d'olive de la Vallée des Baux-de-Provence
15 g pine nuts
1 pinch of coarse salt
Option: Lucques du Languedoc PDO olives
Prepare the pesto: peel and press the garlic cloves. Blend the garlic with the basil leaves and a pinch of coarse salt.
Add the pine nuts and Parmesan, and continue blending until you get a smooth green sauce. Mix in the olive oil. The pesto will keep for a few days in the refrigerator in an air-tight jar.
Prepare the pasta: cook the spaghetti according to the instructions on the packet. Meanwhile, cut the cherry tomatoes in halves and sizzle them a few minutes in a frying pan with a little olive oil. Cut up the dried tomato flakes. When the pasta is cooked, drain it and immediately mix in 150 g of pesto.
Arrange on the plates. Add the cherry tomatoes and dried tomatoes. Sprinkle with Parmesan and decorate with basil leaves.