Sun balls with PDO huile d'olive de Provence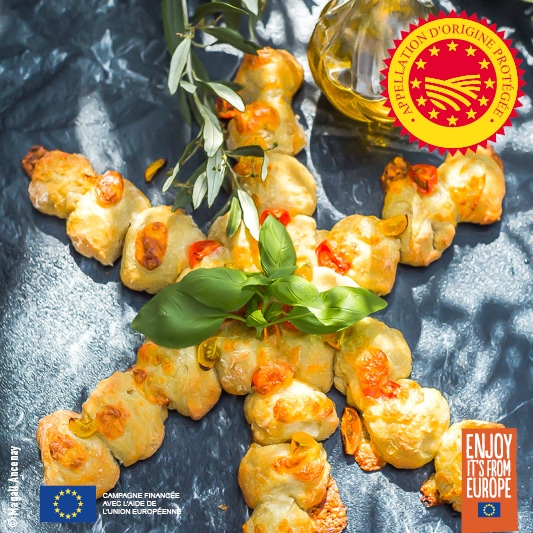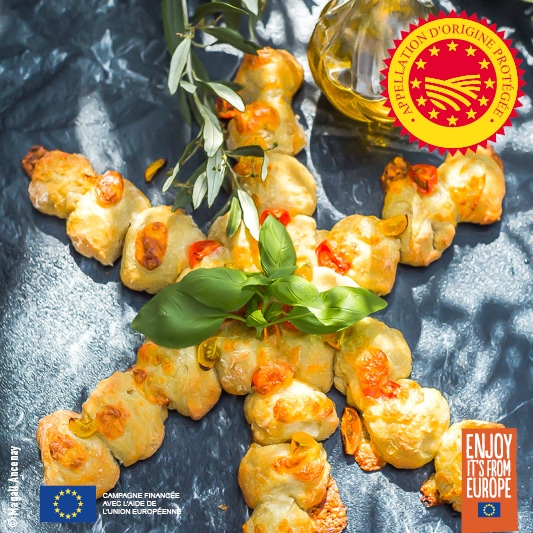 6 persons
20 minutes
15 minutes
90 minutes
Cost
Difficulty
Olive oil or Olives used :
PDO huile d'olive de Provence
Tips and tricks
We advise you to use an intense-tasting PDO huile d'olive de Provence for its aromas of fresh grass, raw artichoke sometimes rounded off with banana, hazelnut, fresh almond and tomato leaf.
You can also use one of these PDO olive oils: Vallée des Baux-de-Provence, Nîmes, Aix-en-Provence, Corse – Oliu di Corsica.
Ingredients
For the pizza dough:
400 g gluten-rich flour
1 packet of dry baker's yeast (or 18g fresh yeast)
22 cl water
2 tbsp PDO huile d'olive de Provence
6 g fine salt
1 pinch of sugar
For the filling:
15 sun-dried tomatoes
15 cherry tomatoes
1 small bunch of basil
1 tbsp PDO huile d'olive de Provence
100 g gruyere cheese
50 g grated gruyere
1 PDO mozzarella di Buffala Campana
Cut the gruyere into cubes (about 1 cm x 1 cm). Cut the sun-dried tomatoes into thin slices. Chop the basil, set aside a quarter for the decoration. Combine gruyere cubes, dried tomato strips and three-quarters of the basil.
Prepare the pizza dough:
Mix the yeast with 100g of lukewarm water and 50g of flour, let ferment for 30 minutes (Tip: Preheat the oven to 40 or 50°C, turn it off and put the yeast bowl in, the yeast will bubble and swell faster and more surely!).
In a bowl or the bowl of your food processor, mix the rest of the flour with the salt, sugar and olive oil. Add the yeast and remaining water (cold). Knead for about 10 minutes, the dough should detach from the edge and be flexible.
Take the dough to form balls of about 5 cm in diameter. Make a hole in the ball and add a little gruyere/tomato/basil mixture, close the ball tightly, place on a baking sheet covered with parchment paper. The balls should form a sun (the balls must not touch, they will swell).
Let it rest for an hour in a place sheltered from drafts (in an oven for example).
Preheat the oven to 200°C.
Brush your sun generously with olive oil. Wash the cherry tomatoes, cut them in four (set aside some tomatoes) and arrange them on the sun. Sprinkle with the rest of the chopped basil, salt and pepper. Cut the mozzarella into cubes, place them on the sun and sprinkle with grated Gruyere.
Bake for about 15 minutes.
Let it rest for 5 minutes before serving, add a few cherry tomatoes and the rest of the basil.
Recipe made for EcceOlio program, financed with aid from the European Union