Toast with guacamole and soft boiled egg, with PDO huile d'olive d'Aix-en-Provence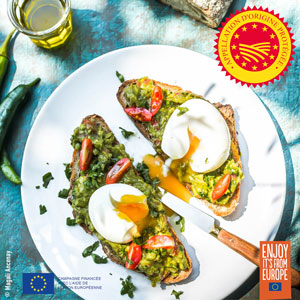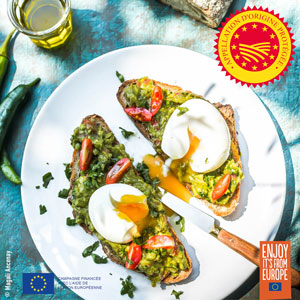 4 persons
15 minutes
5 minutes
minutes
Cost
Difficulty
Olive oil or Olives used :
PDO huile d'olive d'Aix-en-Provence
Tips and tricks
If you like very smooth guacamole, use a blender to mix the ingredients.
Ingredients
4 slices of farmhouse bread, lightly toasted
2 avocados
The juice of one lemon
1 tsp. chopped coriander
1 small tomato
8 cherry tomatoes
1 shallot
Guacamole spice mix
4 eggs
2 tbsp. PDO huile d'olive d'Aix-en-Provence
Salt & pepper
Option: PDO olives noires de Nyons or Nice
Prepare the guacamole:
Cut the tomato into small dices, removing the seeds.
Peel the avocados and mash them in a bowl. Finely chop the shallot.
Add the lemon juice, a pinch of salt, the diced tomato, the chopped shallot, the chopped coriander, 1 tbsp. olive oil and the guacamole spices. Mix.
Prepare the soft-boiled eggs:
Put water in a saucepan and bring it to a boil. Gently place the eggs in the boiling water. Cook for exactly 5 minutes from the moment the water returns to a boil. Remove the eggs from the boiling water using a slotted spoon, then plunge them into a bowl of ice water to stop the cooking.
Gently shell the eggs.
Spread the guacamole onto the slices of bread. Cut the cherry tomatoes into quarters and place them on the guacamole.
Place the soft-boiled egg on top and slit it delicately. Add salt and pepper and a drizzle of olive oil. Serve immediately.