Tomato/mozzarella salad with PDO huile d'olive de Haute-Provence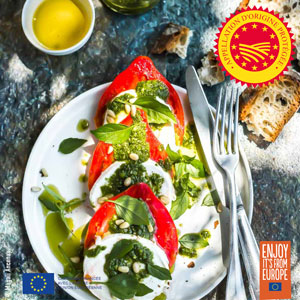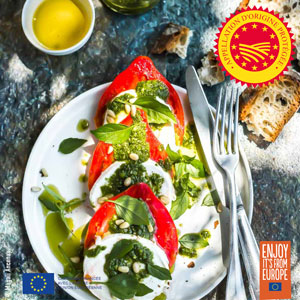 4 persons
15 minutes
0 minutes
0 minutes
Cost
Difficulty
Olive oil or Olives used :
PDO Huile d'olive de Haute-Provence
Tips and tricks
We advise you to use an intense-tasting PDO olive oil from Haute-Provence for its aromas of raw artichoke, banana, grass, apple and fresh almond. Its bitterness and strength will go well with the bacon and tomato.
You can also use one of these PDO olive oils: Vallée des Baux de Provence, Provence, Nîmes, Aix-en-Provence, Corse – Oliu di Corsica.
Ingredients
3 large red tomatoes
200 g mozzarella
1 handful basil leaves
10 cl PDO huile d'olive de Haute-Provence
5 cl balsamic vinegar
Salt, pepper and Guérande salt
A few pine nuts
Cut the mozzarella into slices 2 to 3 mm thick.
Cut the tomatoes into slices.
Alternate the slices of mozzarella with the slices of tomato on the serving dish, making them overlap. Cover the entire dish.
Chop half the basil and combine with the olive oil, vinegar, salt and pepper.
Pour this onto the tomatoes and mozzarella.
Sprinkle the tomatoes with basil leaves and a few pine nuts. Sprinkle with a little Guérande salt, which will enhance the taste of the tomatoes.