White chocolate and cherry cake with PDO huile d'olive de Nyons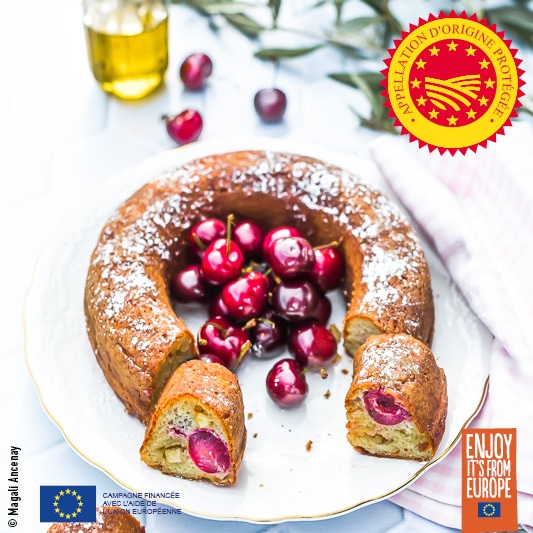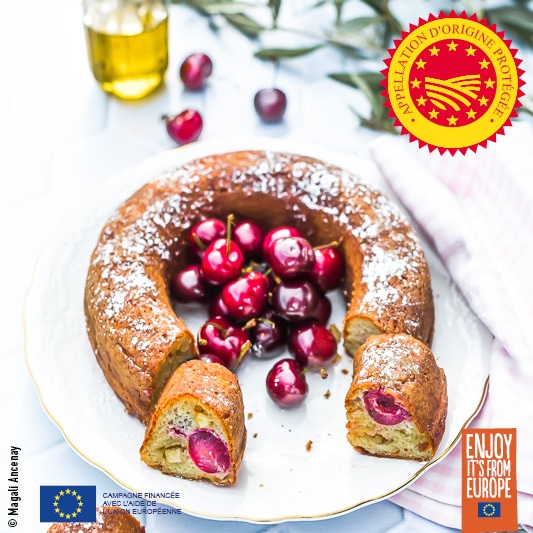 6 persons
15 minutes
35 minutes
minutes
Cost
Difficulty
Olive oil or Olives used :
PDO huile d'olive de Nyons
Tips and tricks
We advise you to use a delicate-tasting PDO huile d'olive de Nyons, for its sweetness, its smoothness, its aromas of dried fruit, and its buttery taste, along with possible aromas of fresh hazelnuts and/or freshly-cut grass. You can also use one of these PDO olive oils: Nice and Corse – Oliu di Corsica – récolte à l'ancienne.
Ingredients
200 g fresh cherries
2 eggs
1 tbsp honey
150 g fromage blanc (French "white cheese")
2 tbsp PDO huile d'olive de Nyons
70 g flour
50 g almond powder
1/2 sachet of baking powder
1 pinch of salt
80 g white chocolate for pastry
Preheat the oven to 180°C.
Wash and pit the cherries.
Whisk eggs, honey, olive oil and white cheese. Add the dry ingredients: flour, baking powder, almond powder and a pinch of salt, mix well.
Stir in the largely shredded white chocolate and pitted cherries.
Pour the Preparation into a well-buttered tin and bake for 30 to 35 minutes, watch the end of baking time

Variation: In the summer, you can try this recipe with white peaches or raspberries; in the fall, with pears.
Recipe made for EcceOlio program, financed with aid from the European Union