Zucchinis terrine with fresh herbs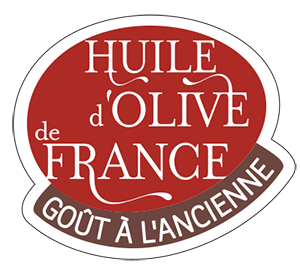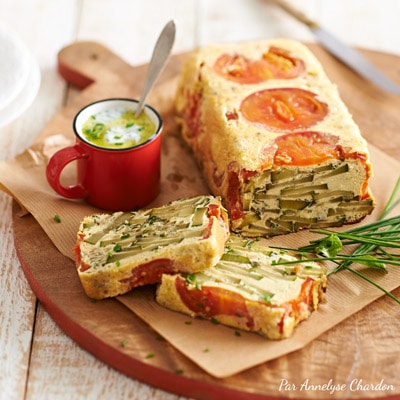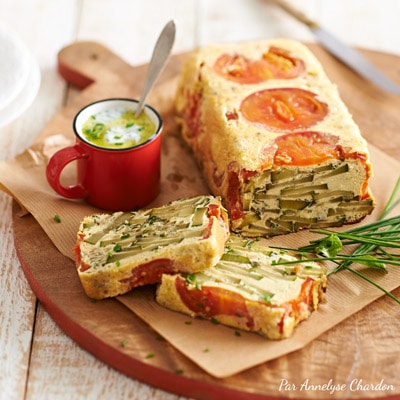 8 persons
20 minutes
40 minutes
0 minutes
Cost
Difficulty

Olive oil or Olives used :
Provence AOC
Tips and tricks
Annelyse's tips : try an olive sauce instead of the herbs sauce : blend 200g white cheese with 2 tbsp black olive puree (Affinade).
Ingredients
3 zucchinis
2 fresh onions
2 tomatoes
4 eggs
6 large leaves of basil
1/2 chive bunch
1 tsp fresh thyme
The zest of 1 lemon
20cl single cream
Traditional olive oil
Salt, pepper
For the herbs sauce :
200g white cheese
1/2 chive bunch
6 large leaves of basil
1 tbsp traditional olive oil
The juice of 1 lemon
Salt, pepper
In olive oil, brown the zucchinis (cut in slice) with chopped onions in olive oil for 10 min. Slat, pepper and drain in a colander.

Beat the eggs with the cream, 1 tbsp olive oil, the lemon zest and thinly sliced herbs. Salt and pepper generoulsy, add the zucchinis and blend.

Pour this mixture in an oiled cake mold, lined with tomato slices, and bake in a preheated oven at 200°C for 30-40 min.

Cool before unmolding. Serve cut into slices, pour the sauce prepared by blending the white cheese with the lemon juice, chopped herbs, salt, pepper and olive oil.
Cooked by Annelyse Chardon